Blog
Published on 29th Jun 2023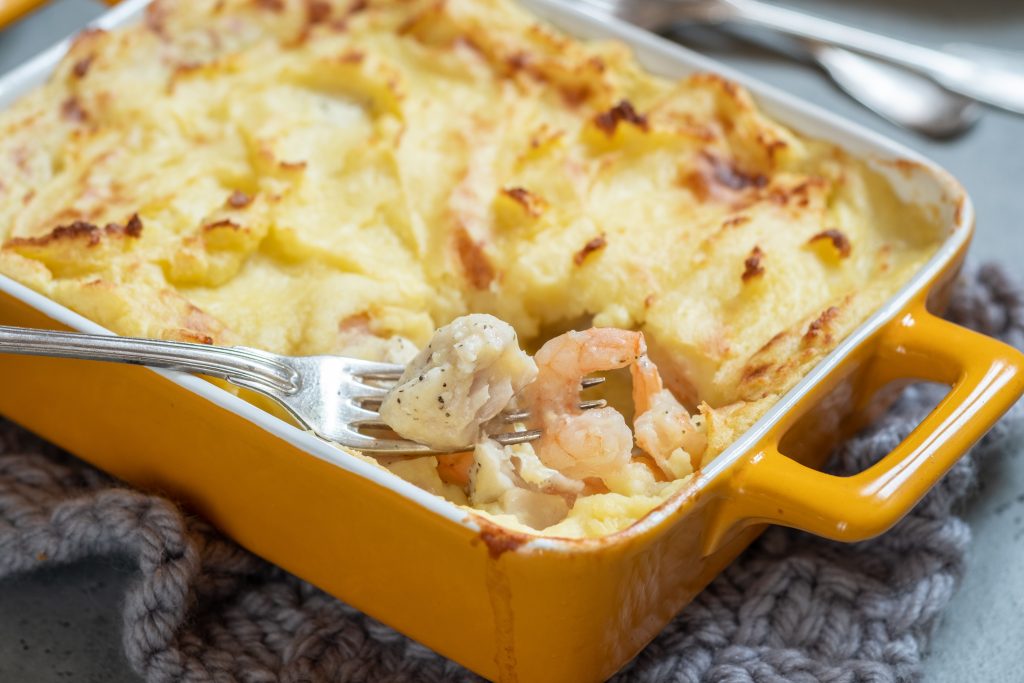 Add prawns to your homemade fish pie for extra flavour!
The Fish Pie, also known as a Fisherman's Pie ( because the topping is similar to that of shepherd's pie, in that it uses mashed potatoes.), is a traditional British dish, said to have originated in Scotland.
In earlier times, fish was eaten to honour the Roman goddess Venus. Romans were fond of eating fish but when they invaded Britain they were disrespected for the amount they consumed. At that time in Britain, seafood was mainly consumed on Fridays. The Fisherman's Pie recipe was thus brought to Britain by these invaders.
It is also said that during Lent, with the exception of fish, meat was prohibited and so to have a variety in food, many new recipes were tried and thus the recipe for fish pie evolved. Traditionally, the pie would be made by combining it with spices, wine, sugar and rosewater. The pie was covered in a pastry sheet and baked.
Today's fish pie is usually made with white, often smoked, fish (for example cod, haddock or halibut) in a white sauce or cheddar cheese sauce made using the milk the fish was poached in. Prawns and hard boiled eggs are other common additional ingredients. It is oven-baked in a deep dish but is not usually made with the shortcrust or puff pastry casing that is associated with most savoury pies (e.g. steak and kidney pie).
In place of a pastry casing enclosing the pie, a topping of mashed potatoes (sometimes with cheese or vegetables such as onions and leeks added) is used to cover the fish during baking.
Here are a few of our favourite Fish Pie recipes from a few of our favourite chefs!
https://www.jamieoliver.com/recipes/fish-recipes/fish-pie/
https://www.gordonramsay.com/gr/recipes/fish-pie/
https://www.bbc.co.uk/food/recipes/seafood_gratin_with_80834